Concrete
Where Chandler's foundation began, Concrete has proven itself to be a versatile and economical building material. Chandler's network of ready-mixed concrete plants serve areas of North Carolina, Virginia and southern West Virginia and eastern Tennessee. Chandler's plants are positioned to provide you timely service and drivers than exceed your expectations.
Our ready-mixed concrete can be customized with additives to accommodate pours in less than desirable weather (very hot or very cold) or transportation times. Engineered concrete can produce a variety of formulations designed to achieve modern construction requirements and/or producing less waste and greater savings for optimum efficiency. By being able to customize your ready-mixed needs, we are able to modify manageability, shorten or extend set time to improve the finishability.
We offer a research and development department backed by our technical service staff, which optimizes your concrete mix in order to achieve strength and other characteristics that may be required.

Chandler Concrete is competitive for nearly every job. Our service is unmatched- give us a call and let's work together!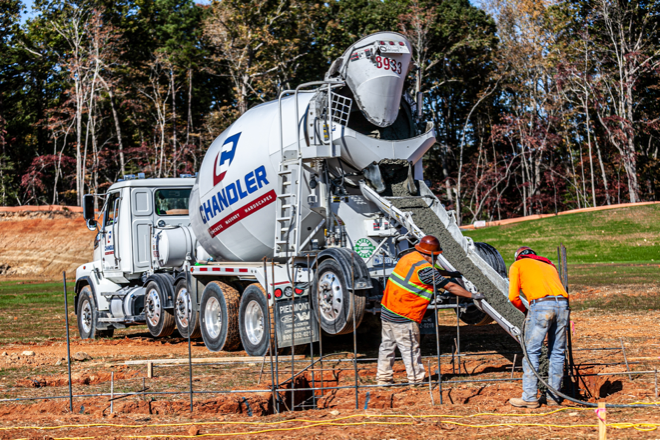 HOW MUCH DO I NEED?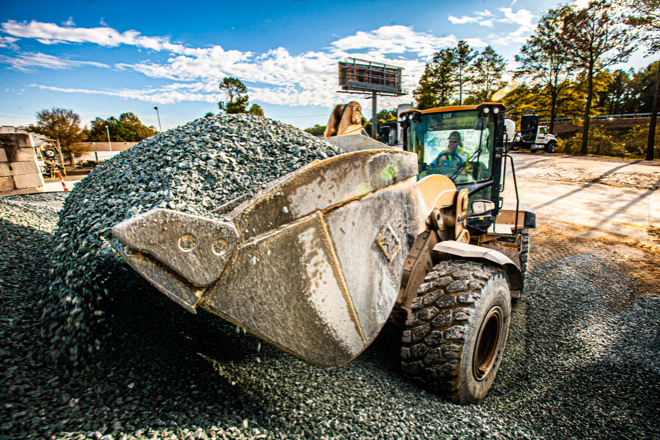 WHAT IS CONCRETE?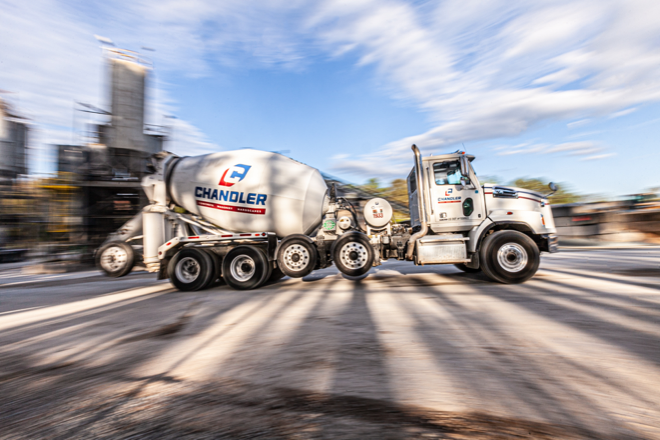 ON-TIME DELIVERY
What Sets Chandler Concrete Apart?
With over 45 years of experience in ready-mix concrete, we pride ourselves in providing superior quality products and outstanding customer service. Our staff is knowledgable and ready to assist with whatever needs you may have. Chandler remains family owned and operated still to this day. Not only do we provide ready mix concrete, we also provide a wide array of other building products such as masonry and hardscape items.
We have many convenient locations to serve you.
With over 40 ready-mix plants and 3 block plants, we are able to serve our customers in a timely manner that exceed expectations.
View Concrete Gallery
I have dealt with Chandler Concrete for 20+ years. From first class drivers to first class salesmen like Chris Wood you always know you will be taken care of. Chandler is prompt in their service and builds relationships with their customers. You won't find a better work "family" atmosphere.
Tyler Hall Construction
We have worked with Chandler Concrete for 20 years and they have remained our preferred concrete supplier when working anywhere close to their service area. Chandler's pricing has always been competitive, and they've maintained a high level of service through the years.
Chad Green, Carolina Civil Works
C&J Concrete Foundations have been using Chandler Concrete as a supplier since our inception. We are a cast in place (poured wall) contractor and service and quality on our jobs is of paramount importance. We heartily endorse Chandler Concrete and its subsidiaries…if your project demands the best concrete mix and great service, then bring Chandler Concrete in as part of your team!
Kevin Tonn, C&J Concrete Foundations, LLC.
The Chandler staff and company is one of the most professional I've been around. Phillip Martin, Brian Teague, Bob Chandler take time to make sure that they give the best product possible within spec and on time, helping the company I work with in every way possible to give the customer the best product out there, their trucks are always on time and meet specs and safety rules. If you want a product on time and within budget chandler is one of the best. I had the pleasure of doing a couple of inspection audits on their batch plants and everyone I've seen are clean and well built and organized. Phillip Martin has been on every major pour we have to insure that there are no problems I would recommend chandler to everyone in this business. This is my first testimonial and I wouldn't do it for just any company.
Darryl Newton, Zachary Industrial